Please help your children better understand the situation by looking through 'Children's Guide to Coronavirus'. Click here:
https://www.childrenscommissioner.gov.uk/publication/childrens-guide-to-coronavirus/
Dear parents and children,
We hope you are well and keeping safe at home. During school closure, we will continue to help you with your education. We will update this page regularly on work you can do either by yourself, or with the help of an adult. There are more links on the Home Learning page containing subject specific tasks you can complete.
Please do not think you have to complete everything we put on this page (try to do a little bit of something each day). Have a look at the different activities and find something that you will enjoy doing. We are not expecting you to do everything!
The most important thing you can do at home is read. Please read for at least 20 minutes every day - this should be a mixture of reading by yourself and reading with an adult. Please see the links that will take you to online resources in case you have read all your books at home.
Take care of yourself and your family.
We hope to see you all soon.
Mrs Kirwin, Mrs Malik, Mrs Makh, Mrs Dhorat & Mrs Ravat
Below is a leaflet with information, activities and contacts for Bradford Refugee Week.
Sabryna and the River Spirit Ebook
Part 2
We know you've all enjoyed reading the first chapter. Are you ready for Chapter 2? Read along with the teacher and pause the video to answer questions.
Pobble 365 Challenge
Samurai
Read the text and answer the questions below.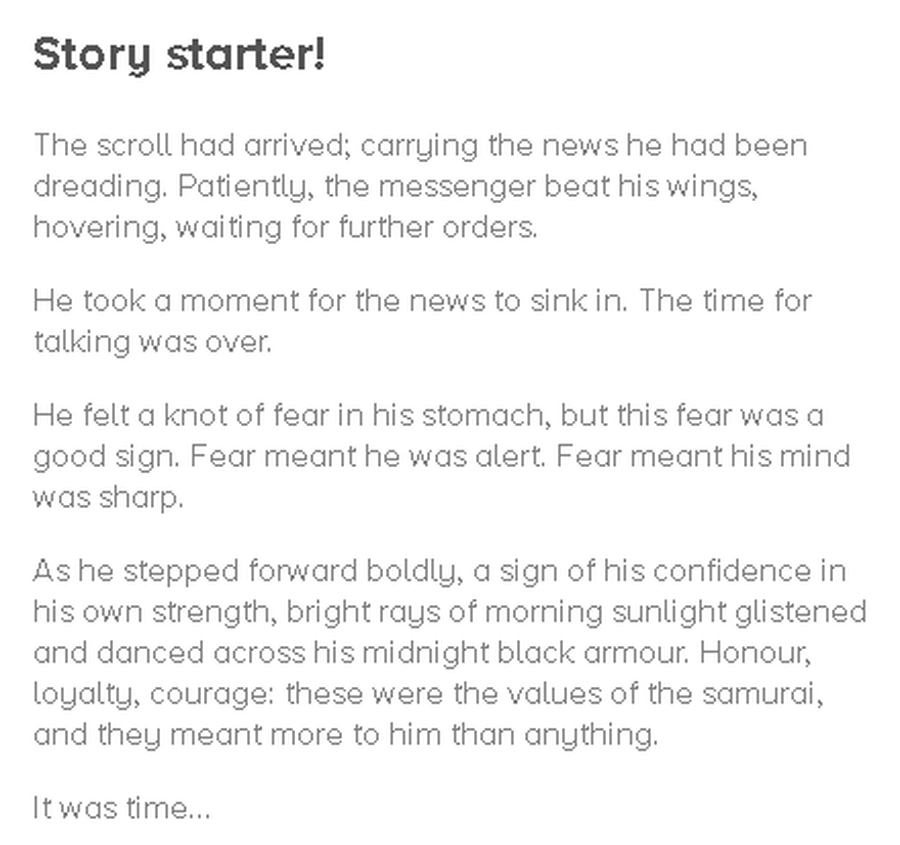 Q1 Who has bought the scroll to the samurai?
Q2 What does the scroll contain?
Q3 Why is the samurai dressed as he is?
Q4 What will he do now that he received the message?
Q5 Who is the message from?
Q6 What is he carrying on his back?
Q7 What might the symbol mean?
Task: Design a perfect suit of armour.
Challenge: Write what happens next.
DESIGN AND TECHNOLOGY
During the summer term we would have been learning about food in DT. Watch the videos below to understand where food comes from, how it is prepared, hygiene guidelines and nutritional benefits.
Week 1: The bread-making process
Bread from around the world worksheet
Week 2: Food groups and a Balanced diet
Your task is to make a healthy lunch for a family member. Carefully select items from each of the food groups, think about portion size and the nutrients that we should eat for a healthy liefstyle. Ask them to give you a response after the meal. Good luck!
Here are some more links to help you.
Q1 Why is hygiene important?
Q2 Make a poster to put up in your kitchen to show your family the step-by-step method to wash their hands during the lockdown.Take a photo of your poster and email it to us at school.
Oak National Academy
The Oak National academy has been created by teachers from leading schools across the country. You can access new videos each week across a range of subjects as well as quizzes and worksheets. So if there is anything you are struggling with, click here to look at this website.
Make and eat pancakes
Build a fort to sleep in tonight
Family movie night
Have story time. Pick 4 favourite books
Nature weaving on a cardboard box
Bake cookies and a cake
Have a Night Picnic under the stars
Make a movie
Have a Tea Party!
Kids cook dinner!
Have a bubble bath
Autumn Term
Earth and Space
We have had a brilliant start to Year 5.
We learnt about our planet and the solar system beyond. We compared Galileo's Geocentric theory with Kepler's Heliocentric model to understand how our solar system works. Visiting the National Science and Media Museum helped us to imagine what space is like. It was a great day!
We had a fabulous day with Moving Words Poetry.
Our main focus was the 1950's, when hundreds of Caribbean migrants arrived at Tilbury Docks, England, with the hope of a better life on a ship named 'The Windrush'.
We took a deep look at what it felt like being a person of colour in that period of time and how immigration impacted on creating the vibrant, multi-racial society we now know.
Inspired by the poet, John Agard, we wrote our own Windrush Child poems.
To end the day, we enjoyed a little bit of 1950's 'Rock & Roll'.
Year 5 were challenged to be creative over the October holidays. We are very impressed with their Space projects. These are just a sample of the work they did during Half Term. Thank you for your support with these.
Our day was spent learning how to be a Viking mathematician. How could we work out the distance we might need to travel as a Viking using a piece of string, a map and a scale? Which journeys would be the the furthest? How could we present these on a bar graph? We also investigated how fractions might have played a part in a Vikings life.
We ended the day creating Islamic Art;our own Ayyubid Stars with a compass.