Ruth Eastham visits Farnham
On Tuesday 4th February, we welcomed children's author, Ruth Eastham, to Farnham. Ruth worked in years 4 and 5 to help children to develop their writing through exciting and engaging story talk. In the morning, she delivered a KS2 assembly to share her writing inspirations, aswell as share some of her favourite authors including Phillip Pullman (author of His Dark Materials) and L. Frank Baum (Wizard of Oz).
Ruth's books have won many awards. Her debut, The Memory Cage, was shortlisted for the Waterstones Children's Book Prize and nominated for the Carnegie Medal. She has been a visiting author in schools across the UK has been a speaker at many literature events, including the Edinburgh Book Festival. Ruth revealed the exciting real-life dramas and mysteries that have inspired her books!
In the afternoon, Ruth signed books for children from all across the school. As a parting gift, she gave us one copy of each of her books for our library which we look forward to reading.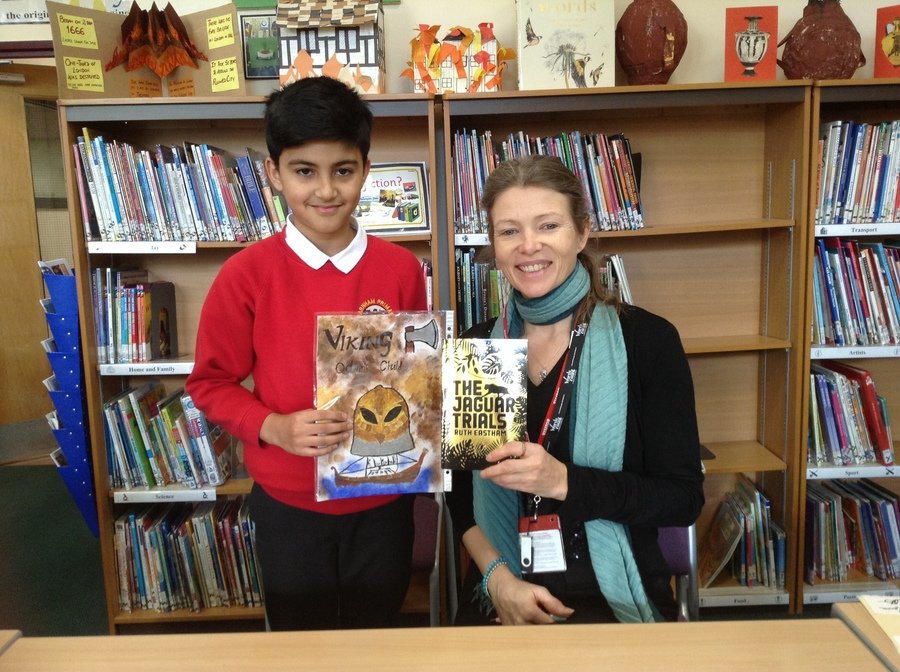 A special mention to Ibrahim, who won a signed copy of 'The Jaguar Trails,' for creating a fantatic book cover inspired by his learning about the vikings. Well done Ibrahim!
Ruth and Mrs Thewlis were extremely impressed by all of the competition entries so it was very difficult to chose just one winner.