Positive Behaviour Policy
The school has a positive behaviour policy and all staff will use this model to promote positive behaviour at Farnham Primary School.
Whole-school level
All staff understand and demonstrate the schools core beliefs about behaviour.
Positive out-of-class behaviour is promoted by agreed routines and clear systems.
School assemblies are used to develop children's social and emotional aspects of learning.
Positive behaviour in corridors, playgrounds, dining room is noted and celebrated.
Parents/carers are aware of and contribute to the school's positive behaviour ethos.
There are clear, consistently used systems for dealing with inappropriate behaviour.
There are opportunities for staff to discuss and contribute, formally and informally, to the development of systems underpinning positive behaviour.
Classroom level
Adults model respectful behaviour.
Teaching routinely incorporates activities designed to promote children's social skills and emotional development.
Lessons are structured to be interesting and appropriately challenging.
Appropriate behaviours are taught and reinforced on a regular basis.
Children are taught the language of sharing and co-operation, choice and consequences.
Children are encouraged to identify their own strengths and to recognise and value the diversity within the classroom.
There are clear classroom routines (e.g. for entry and exit, moving around the classroom, sharing equipment) to reduce uncertainty and promote an appropriate climate for learning.
There are classroom rules, reinforced through discussion with children, which promote positive social and learning behaviour.
Classroom rules are prominently displayed in a way which can be understood by all children (photographs, diagrams, cartoons) in classrooms and around public areas.
Appropriate behaviour is quickly noticed and genuinely celebrated by staff and peers.
There are clear systems, understood by all, for dealing with inappropriate behaviour.
Individual child level
All children's strengths are recognised and celebrated by staff.
Systems are in place for noticing and drawing attention to good or improved behaviour.
There are systems which allow all children to be 'special' at times.
Where a child experiences difficulties in developing or sustaining appropriate behaviour there are systems which give additional support.
The above can be achieved through adopting a positive and planned strategy to cope with undesirable behaviour, which in turn, will create a warm and caring learning environment. The strategy we have adopted in this school is called assertive discipline. This gives children a choice either to obey rules and get rewards or not to follow rules and suffer the consequences.
It is very important that the positive aspects of praise and reward should have great emphasis.
School Rules
We have school rules which all staff, children and parents are aware of. These are linked to our Human Rights. The right to be safe, to be respected and to be heard. We should all try to help each other and make the school a happy and safe place to work.. Through the School Council we have agreed the following.
Behave in a safe way at all time.
Respect other people's feelings.
Eat and drink healthily, take exercise and go to bed early.
Ask questions, try your best and join in school activities.
Look after your environment.
The rules are displayed around school
Staff are consistent in their approach and follow the guidelines which emphasise rules, rewards and consequences. Wherever possible, positive reinforcement should be used to encourage desired behaviour. There is a formal reward system which all staff should follow and there are also a series of sanctions which can be applied when children choose not to follow the rules. The sanctions used depend on the severity of the offence.
Rewards
Merit system KS1
All teachers record class merits given on the class chart which is displayed in each classroom.
Individual charts
Merits for work and behaviour are recorded on the individual chart. Once a pupil has gained ten ticks they are rubbed off and the first column of the reward sheet is stamped. This is repeated for each subsequent ten with each column a different reward. When ten merits have been earned this is recorded in the diary with a special stamp which informs parents of their child's achievements.
The following visual aid supports younger children in following the rules and 'doing the right thing'.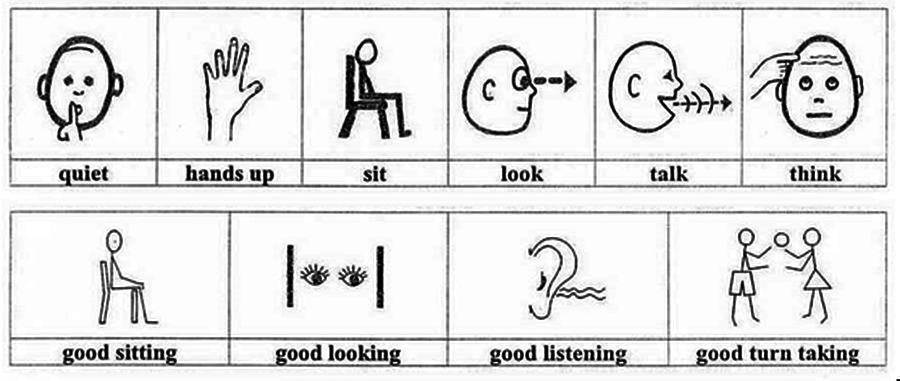 House point system KS2
Pupils in KS2 are all allocated to a house. There are four houses:
Blue - Venus
Yellow - Mars
Red - Jupiter
Green - Neptune
House points are recorded in individual diaries and are collated each week by trained pupils. Totals are compiled onto a spread sheet by pupils. They generate a graph to be shared on the school website and in the main hall. Housepoints are celebrated in classrooms and half termly in KS2 assembly. All classes display on their door the house winners for the week.
Attendance
At the end of each week the class teacher will check the register and a merits/Housepoints will be awarded for 100% attendance.
Star of the week
Each week a 'star child' is chosen in each class as a result of some achievement they have made. This is recorded in the 'star of the week' book. At assembly on Friday morning the 'stars' are called out to the front and their 'photo is then displayed until the following Friday. All 'stars of the week' receive a special 'star of the week' sticker and certificate. Parents are invited to the assembly to share the celebration with their children.
Pupils receive the following rewards: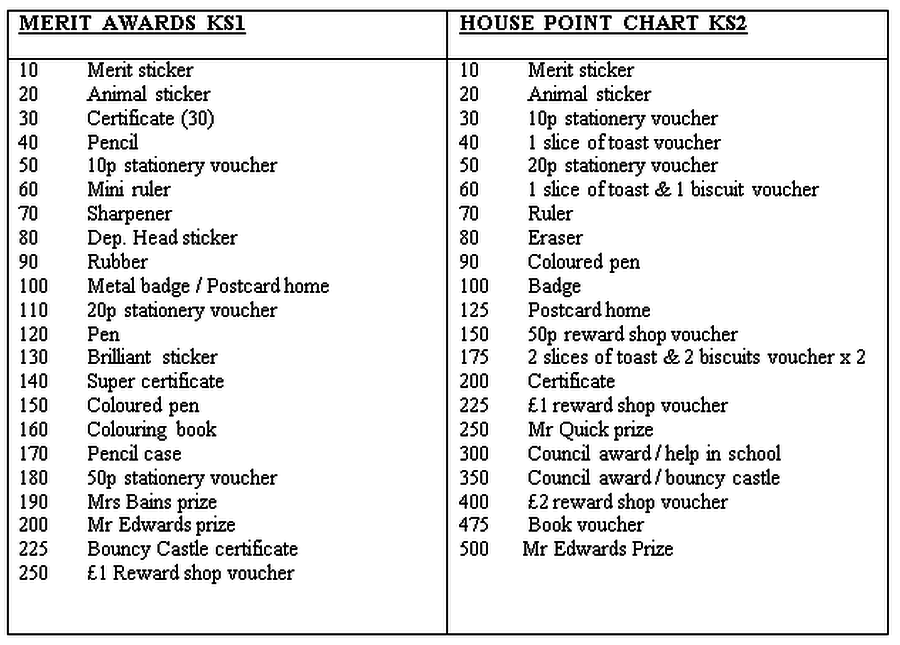 Warnings and Sanctions
The school operates a traffic light system for promoting positive behaviour in each classroom called 'Good to be Green'. At the beginning of the school day, each child begins on a green card. Pupils who need to be reminded of how to behave receive verbal warning(s). If the behaviour does not change, the pupil moves their card from green to yellow. Any further incidents may then result in the card moving to red. In KS1 this results in the loss of playtime/golden time. In KS2, a red card results in a 'Warning' being recorded in the pupil's diary. 3 Warnings in the same week results in a 5 day Report.
Learning Mentor
The Learning Mentor in KS2 accepts referrals for children who are in need of emotional support. Pupils maybe mentored individually or in small groups according to need.
Other sanctions
Other sanctions used to dissuade children from repeating poor behaviours are used where appropriate. These include:
Loss of minutes from golden time.
Made to sit in another place.
Some loss of IT/PE time.
Being sent to another member of staff.
*Link to Physical Restraint Policy.*
Movement inside school and in the playground
Where children need to line up they do so in register order unless there are valid reasons for exceptions. This order is displayed on the classroom wall so that supply staff etc. can see how it should be. Children with extra needs are escorted between and at the end of lessons by their teaching assistant. When classes are coming into school they line up in their designated place in register order. At the end of break times this is supervised by the year group teaching assistant until the teacher arrives. KS2 children who play in the top playground line up close to the slope and their teacher comes to collect them.
At the end of playtime
The bell rings, children stand still.
They line up a class at a time.
Mornings – the Year 5/6 teacher stands at the head of the line in the top playground to receive them, supported by a Teaching Assistant.
Afternoons – the Year 2/3 teacher does the same.
At the end of the day
Children must walk to the exit, in the bottom hall they use the carpet.
All class teachers, Year 2 and older, lead the children into the top yard, in register order.
Children attending clubs must also leave the building and then come back inside with their teacher.
No children can go back into the classroom.
Exclusion
A decision to exclude a pupil is taken by the Headteacher only:
In response to serious breaches of the school's behaviour policy AND if allowing the pupil to remain in school would seriously harm the educational welfare of the victim or others in the school.
The school will follow the procedures of the Education Bradford Pupil Exclusions Manual.
January 2016
Reviewed January 2017